The India-England cricket rivalry dates way back to 1932 when a CK Nayudu-led Indian squad toured England for a one-off Test. India were beaten by 158 runs.
The England cricket team's first official tour to India was in 1933/34 with the visitors winning the three-Test series 2-0. It was not until 1952 that India won their first ever Test against their old colonial masters.
With the latest edition of the India-England Test series in India about to begin in a few days, TimesofIndia.com takes a look at five of the most memorable Tests between India and England on Indian soil:
1933 – Mumbai, 1st Test: England won by 9 wickets
This was the first ever Test match played in India. A four-day affair, it saw England emerging victorious by 9 wickets, but not before the first ever Test hundred was registered by an Indian batsman. Lala Amarnath etched his name in the history books when he hit 118 runs in the Indian second innings in a 186-run stand with captain CK Nayudu (67) for the third wicket. The feat by Amarnath, it is said, created such hysteria that England's victory was almost forgotten.
Lala Amarnath. (Getty Images)
In this match, India batting first made 219. The highest scorer for India was Lala Amarnath with 38. As many as three English bowlers took 3 wickets each. In response, with the bat, England made double of what India had scored, a huge 438, with Bryan Valentine scoring 136, opener Cyril Walters making 78 and captain Douglas Jardine making 60.
Despite Lala Amarnath's 118 in India's second innings, India could only get to 258. England then got to the small target of 40, with 9 wickets in hand.
1952 – Chennai, 5th Test: India won by an innings and 8 runs
This was India's first ever Test victory against England and it was registered in the last Test of the five-match series. Vinoo Mankad's 8/55 restricted England to 266 in their first innings. Pankaj Roy's 111 and Polly Umrigar's unbeaten 130 enabled India to declare their first innings at 457/9.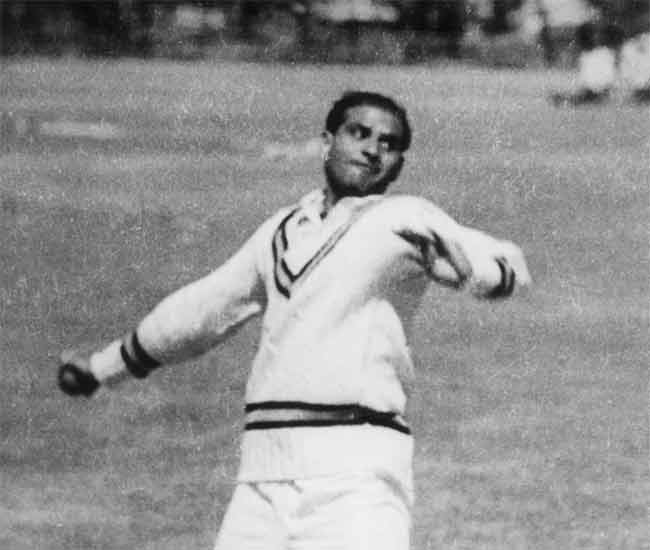 Ghulam Ahmed. (Getty Images)
England were bundled out for 183 runs in their second innings as Ghulam Ahmed and Mankad took 4 wickets each. This victory enabled India to draw the five-match series 1-1.
1985 – Kolkata, 3rd Test: Match drawn
The seeds of controversy for this match were sown in the previous Test of the series. Under the captaincy of Sunil Gavaskar, India had won the first Test of the series by 8 wickets in Mumbai. Things were going fine in the second Test in Delhi till India lost their last six wickets for just 28 runs in the second innings. Rash shots by a well-set Sandeep Patil (41) and Kapil Dev (7) were marked out as the main reasons for India's defeat.
All hell broke loose in Kolkata when Kapil was dropped from the playing XI. Patil was also axed, but it was the exclusion of Kapil that drove the Eden Gardens crowd mad and they vociferously booed Gavaskar, holding him responsible for dropping the great all-rounder.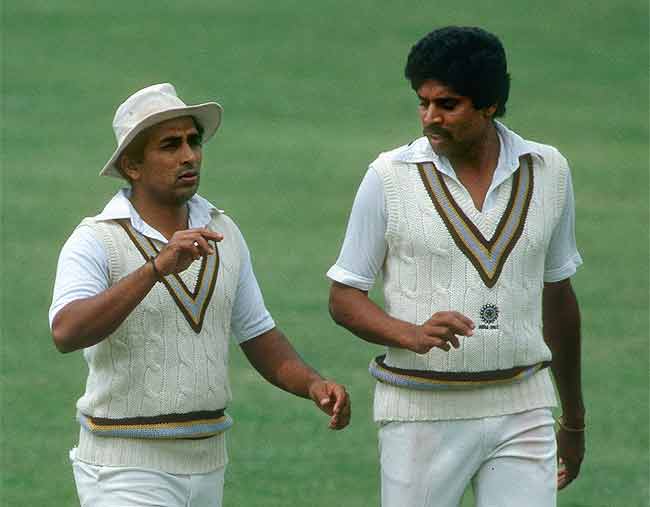 Sunil Gavaskar and Kapil Dev. (Getty Images)
Amidst all this hullabaloo, India discovered a gem of a batsman by the name of Mohammad Azharuddin, who scored a century on Test debut and went on to score two more hundreds in his next two Tests – a world record that still stands.
The Kolkata Test is the only match that Kapil missed in his illustrious career and over the years, Gavaskar has denied the charge of dropping Kapil from the playing XI on more than one occasion, making it clear that the decision was not his at all. In a column, the late Hanumant Singh, a former India cricketer, who was the then Chairman of selectors had also clarified that the idea to drop Kapil was not Gavaskar's. Gavaskar had in fact said – "No captain is foolish enough to suggest dropping his best player and match winner from the team. And whatever else I may be, I am not foolish to do that."
In the Kolkata Test, India batting first made 437/7 declared, with centuries by Azhar (110) and Ravi Shastri (111). England in response were bowled out for 276, with Chetan Sharma and Shivlal Yadav taking 4 wickets each. The match ended in a tame draw with India batting on 29/1 in their second innings.
2008 – Chennai, 1st Test: India won by 6 wickets
In the words of Sachin Tendulkar, England were "gracious enough" to come back and resume their tour of India after the ghastly terror attacks in Mumbai in 2008.
A classic unfolded in the first Test when India chased down a record-breaking 387-run target in Chennai. England were ahead of India most of the time in the match, with Andrew Strauss hitting centuries in both the innings. England were in a spot of bother at 43/3 in their second innings before a 214-run stand between Strauss and Paul Collingwood (108) rescued them. But when Kevin Pietersen declared the England second innings at 311/9, they didn't have the faintest of ideas of what was going to hit them.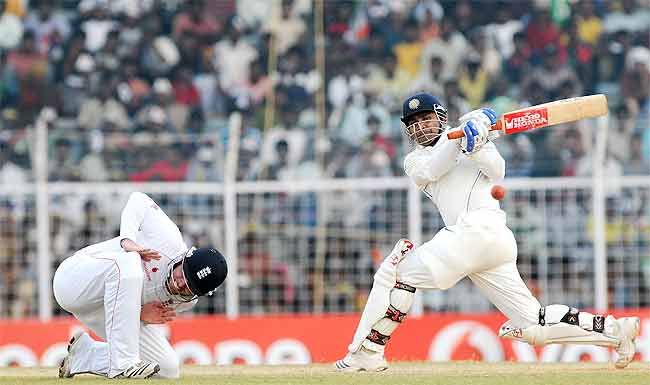 Virender Sehwag. (TOI Photo)
India's opening duo of Gautam Gambhir and Virender Sehwag gave the run chase a whirlwind start amassing 100 runs off 108 balls. Sehwag tore apart the England bowling attack with some ferocious strokeplay, racing to his half-century off just 32 balls. Sehwag finally fell after a fiery 68-ball 83, but Gambhir kept India in the hunt with a fine 66.
India were 141/2 at the dismissal of Rahul Dravid (4), when Sachin Tendulkar walked out to join Gambhir at the crease. A determined Tendulkar made sure that the run chase didn't fall off track and took India over the 150-run mark with Gambhir, past 200 with VVS Laxman and along the way notched up another half-century.
Alongwith Yuvraj Singh (85*), Tendulkar steered India to a remarkable and unforgettable victory and as the master batsman reached his hundred off the winning shot, Yuvraj lifted him off the ground much to the joy of the delirious fans at the Chepauk.
After the match, Tendulkar (103*) dedicated his hundred to the entire nation and also to the martyrs of the Mumbai attacks.
2012 – Mumbai, 2nd Test: England won by 10 wickets
England are the last international side to have won a Test series in India – that was in 2012/13. India won the first Test in Ahmedabad by 9 wickets, but Kevin Pietersen's magnificent 186 powered England to a 10-wicket victory in the second Test in Mumbai.
Pietersen's 206-run stand with his captain Alastair Cook (122) rendered the Indian bowling attack almost useless. India played a lone seamer in Zaheer Khan and the three spinners Ravichandran Ashwin, Harbhajan Singh and Pragyan Ojha were all dealt with utter disdain by Pietersen.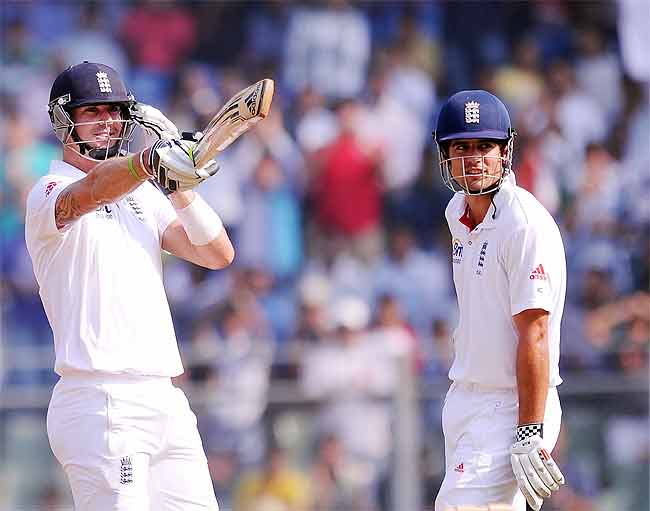 Kevin Pietersen and Alastair Cook. (TOI Photo)
With an array of shots all around the wicket, Pietersen reached his fifty off 63 balls, 100 off 127 deliveries and 150 off 201 balls as the Indians were sent on a leather hunt. Pietersen's 186-run knock was studded with 20 fours and four sixes and is considered to be one of the best innings ever to be played by an overseas batsman on Indian soil.
India, batting first made 327, with Cheteshwar Pujara scoring 135 before falling to Graeme Swann. England responded with 413, thanks largely to KP's 186 and Cook's 122. India were then skittled out for just 142. Gambhir (65) and R Ashwin (11) were the only two Indian batsmen who reached double figures. England were set a paltry target of 57, which English openers Cook and Nick Compton took them to register a comprehensive 10 wicket win.